New! Come and join us at the Scolt Head London for a singers and singer-songwriters evening!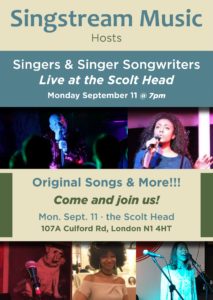 I provide practical technical vocal support and performance training to singer songwriters. Whether you sing and play guitar or piano I can help you with breathing, posture and alignment issues, vocal production and how to perform your songs. I also provide performance opportunities.
I support your creative talent by keeping my central London teaching fees low. I want you to do as well as you can. 
Some quotes from singer/songwriters include:
"Your teaching has made all the difference to how I perform"
"I feel I have so much more courage to present my songs"
"Thank you so much. In just one hour you've transformed what I do"
"Singing my songs and performing them are such different things. I never realised that before. It's really helped."
"Thank you for being so encouraging."
"My song writing has developed into something so much more exciting"