"It actually teaches you how to sing" -The Stage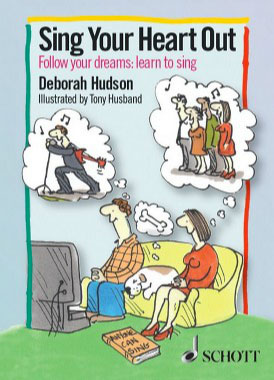 As featured on BBC Radio, Professional Journals, Health and Wellbeing Magazines, Music Magazines and Sites, Family, Mother and Baby magazines and many other websites.
"A tiny book, well written and amusingly illustrated…a great deal of information packed into a small space"
-Communicating Voice (British Voice Association)
"It actually teaches you how to sing – from getting the right posture, doing simple exercises, listening to others and then what to do with your newly developed technique. Quite an achievement in 44 tiny and generously illustrated pages. Hudson has a gift for presenting her information with clarity and wit."
-The Stage
At only £4.99 the book is available from music shops, Waterstones & Amazon.co.uk. Makes a great present!
"We've lost count of the number of people who have said to us 'I can't sing'. This book proves what we've always told them 'everyone can sing'."
"Deborah can give anyone the inspiration to begin singing"
To purchase through Amazon, please click below:

Sing Your Heart Out
actually teaches you to sing!